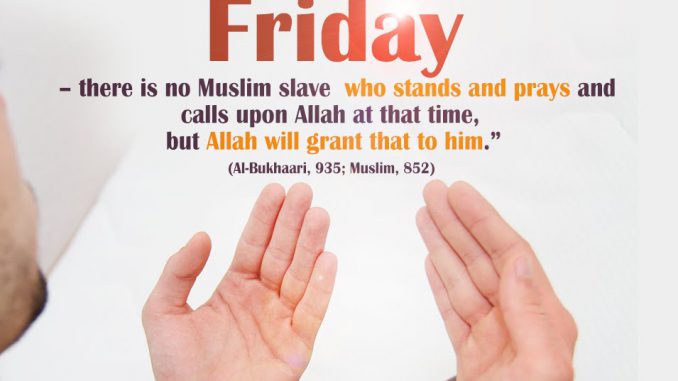 يَا أَيُّهَا الَّذِينَ آمَنُوا إِذَا نُودِي لِلصَّلَاةِ مِن يَوْمِ الْجُمُعَةِ فَاسْعَوْا إِلَى ذِكْرِ اللَّهِ وَذَرُوا الْبَيْعَ ذَلِكُمْ خَيْرٌ لَّكُمْ إِن كُنتُمْ تَعْلَمُونَ. فَإِذَا قُضِيَتِ الصَّلَاةُ فَانتَشِرُوا فِي الْأَرْضِ وَابْتَغُوا مِن فَضْلِ اللَّهِ وَاذْكُرُوا اللَّهَ كَثِيرًا لَّعَلَّكُمْ تُفْلِحُونَ.

"O ye who believe! When the call is proclaimed to prayer on Friday (the Day of Assembly), hasten earnestly to the Remembrance of Allah, and leave off business (and traffic): That is best for you if ye but knew! And when the Prayer is finished, then may ye disperse through the land, and seek of the Bounty of Allah: and celebrate the Praises of Allah often (and without stint): that ye may prosper." (Jumu'ah 9,10)

Friday Prayer
Narrated by Hafsah Ummul Mu'minin The Prophet (Sal-allahu-aleihi-wassallam) said: "It is necessary for every adult (person) to go for (saying) Friday (prayer), and for everyone who goes for Friday (prayer) washing is necessary."
Transmitted by Abu DawudNarrated by AbuHurayrah, Allah's Messenger (pbuh) said: "He who took a bath and then came for Jumu'ah prayer and then prayed what was fixed for him, then kept silence till the Imam finished the sermon, and then prayed along with him, his sins between that time and the next Friday would be forgiven, and even of three days more."
Transmitted by Muslim

Procedure of the Friday Prayer
First Adhan – Called by Muazzin during Dhuhr time.
Praying of four rak'ah sunnah of Jum'ah – Performed individually.
Second Adhan – Called by Muazzin when the Khateeb (lecturer) sits down on the pulpit.
Friday Archive – Friday lecture delivered by the Khateeb.
Iqamah – Muazzin calls the Iqamah when the Khateeb completes the lecture.
The Fard Prayer of Jum'ah – Performed in congregation behind the Imam.
The Sunnah or Kadaa Prayers after Jum'ah – Voluntarily and individually offered prayers of four or ten rak'ah.

"O ju që besuat, kur bëhet thirrja për namaz, ditën e xhuma, shpejtoni aty ku përmendet All-llahu (dëgjojeni hutben, falni namazin), e lini shitblerjen, kjo është shumë më e dobishme për ju nëse jeni që e dini. E, kur të kryhet namazi, atëherë shpërndanuni në tokë dhe kërkoni begatitë e All-llahut, por edhe përmendeni shpeshherë All-llahun, ashtu që të gjeni shpëtim."
(Surja Xhum'ah: 9,10)

Namazi i Xhumasë
Virtytet e Xhumasë
Tregon Tarik Ibn Shihab se Profeti (as) ka thënë: " Namazi i Xhumasë me xhemat është detyrë e domosdoshme për çdo mysliman, përveçse këtyre përjashtimeve: skllavi, gruaja, fëmija, dhe njeriu i semurë." (Transmeton Ebu Davudi)
Tregon Ebu Hurejrah se i Dërguari i Allahut ka thënë: " Ai që lanë trupin dhe vjen për Namazin e Xhumasë dhe falet atë që i është caktuar atij dhe pastaj qëndron pa folur deri kur Imami mbaron predikimin dhe falet me të, i falen gjynahet nga ajo kohë deri në Xhumanë tjetër, madje dhe për tre ditë më shumë." (Transmeton Muslimi)

Procedurat e Xhumasë
· Ezani i parë – Thirret nga Muezini.
· Falja e katër reqteve sunnet të Xhumasë – Individualisht, pa Imam.
· Ezani I dytë – Thirret nga Muezini, kur Hatibi (ligjëruesi) qëndron në minber.
· Hytbja e Xhumasë – Ligjërata e Xhumasë, e cila mbahet nga Hatibi.
· Ikameti – Thirret nga Muezini, kur Hatibi mbaron ligjëratën.
· Falja e Namazit Farz të Xhumasë – Të gjithë falen bashkë me Imam.
·Falja e Namazeve sunnet ose Kaza pas Xhumasë – Vullnetarisht, katër ose dhjete reqate pa Imam.